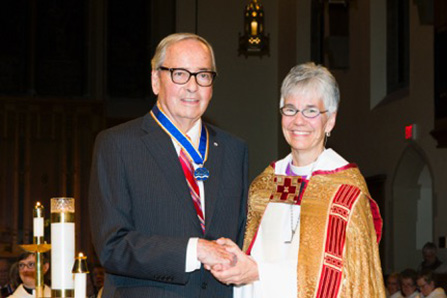 The Order of the Dioceses of New Westminster honours and gives special recognition to lay members of the Diocese who have given outstanding service over a significant period of time in their volunteer ministry.
Recipients from St John's Shaughnessy
Stephen Paul Schuh, 2012
Steve has been a loyal and dedicated member of our church despite not being allowed to serve in a leadership capacity in his home parish until recently. He has been a faithful Anglican and advocate for Gay and Lesbian voices in our church, locally, nationally and internationally.
Margaret (Peg) Adele Cleveland Andrews, 2013
Peg has been a member of St. John's, Shaughnessy since the early 1960s. She took a quiet and firm stance against the St. John's Vancouver movement. Today, as the longest serving member of the parish, we honour her and her faithful 51 years of service to St. John's.
Nancy Southam (Bishop's Nominee), 2013
Nancy Southam has been a long time member of St. John's Shaughnessy. She currently serves on Diocesan Council, the Administration and Finance Committee, the Communications Committee, and she is also the Chair of the Grants & Loans Committee. This Order is given, in part, in recognition of the extraordinary generosity of the Southam and MacMillan families, including the magnificent Tree of Life Window installed in 2009 in Christ Church Cathedral, Vancouver.
Philip Walter Owen (Bishop's Nominee), 2014
Philip started his lifelong association with the parish of St John Shaughnessy in kindergarten in the original church and Administration Building, and later in Cubs and Scouts. He attended The Saturday Night Club at the church, the only place for teenagers of the day to assemble and dance. He was confirmed and married at St. John's, served as Rector's Warden, and was a member of a Canonical Committee. Philip chaired the Bishop's Men, for Archbishop David Somerville. He is currently a Trustee. Many of your will know Philip as "Mayor Owen" given his service as Mayor of Vancouver from 1999 to 2008.
Peter Erskine Kidd, 2014
Peter has been a member of St. John's for more than 40 years, and has dedicated himself to the maintenance and upkeep of the parish property and grounds, including a lot of hands-on labour such as removing the asphalt coating on all the brick windowsills. Most recently Peter has managed the replacement of the church roof and the landmark cedar cross.
Brita Owen, 2015
In 1972 Brita joined the Sanctuary Guild and she was a dedicated member for the next 36 years. She held every position and speaks lovingly of the wonderful women she met and worked with over the years, who taught her everything and were like mothers to her. Since 2011 Brita is back in the Sacristy. Not a week goes by that she is not busy washing and ironing the linens, polishing the chalices or mentoring to newcomers to the Sanctuary Guild team.