When someone you love dies, we know from personal experience how daunting it can be to have to organize a funeral, especially when the death of a loved one is sudden and unexpected. However compassionate and helpful people are, it is always difficult to attend to all the necessary details. Funerals can be simple private family affairs or a larger ceremony but the intent of a funeral or a memorial service is celebrate the life of a loved one and to acknowledge our own loss and grief.
The whole concept of saying goodbye to loved ones has changed tremendously over the past few years, and formal tradition has given way to more modern approaches. These days we are less reluctant to discuss death and dying, and many people are choosing to take an active role in planning their own funerals or to at least make close relatives aware of their wishes. If you would like to speak with our Rector about this, please contact our office.
It is important to consider that when your loved one dies, not to be rushed into organizing things immediately. Yes, it is important to appoint a funeral director, and at St. John's we have excellent connections to local funeral homes. Please contact us if we can be of assistance in this matter. Yes, it is also necessary to register the death, but once you chosen a Funeral Director they can help organize all this for you, as well as assist with the posting of public notices, cemetery or crematorium arrangements.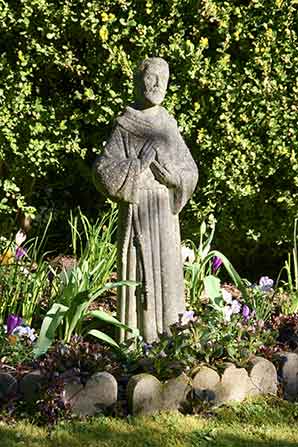 We understand that funerals are a most difficult time for everyone. Some of the stress can be taken out of this by talking with the church as soon as possible – we are here to help. A service at St John's will afford you the opportunity to say good bye in a manner that is appropriate to you and your family. We will assist you in planning the service, assist you in choosing fitting music and ensure that your wishes, and the wishes of your loved one are followed.
Instead of having your friends and family drive and park at another venue for a reception following the service, you might even like to have your gathering in our Trendell Lounge.