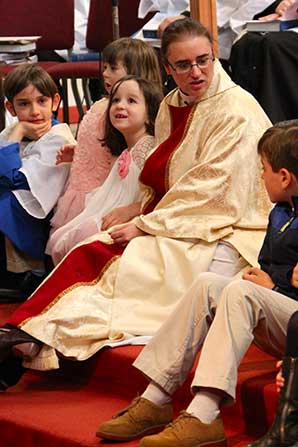 At St. John's we value children and families: recalling how Jesus allowed children to approach him freely, and that he blessed those that came to him. We wish to follow this example by welcoming and including children in our community. We affirm these simple truths: children are a blessing, and the whole community is both enriched by its children and also responsible for their nurturing.
We have dedicated one side chapel in our sanctuary as a children's worship space. Here children gather during the beginning of our Sunday services and worship together with the rest of the congregation until the start of our children's lesson downstairs. On most Sundays there are 2 or more very young children, toddlers, or babies that remain in the side chapel throughout the service. This worship space is stocked with colouring supplies, books, stuffed animals, and soft toys.
We are very excited about our new children's ministry, which features our newly adopted children's curriculum, Godly Play. Godly Play lessons are offered each week during our main Sunday service at 10:00am. All children and families are welcome at St John's! We currently offer a Godly Play children's lesson that is ideally suited for children ages 3 to 12 years of age. Those ages are merely guidelines, our lessons are open to everyone, though children under 3 may need a parent or guardian to accompany them.
Whether participating in Sunday worship or just gathering together to make friends or watch a movie – youth groups provide a safe, welcoming and supportive place for young people to gather and share laughter, stories, prayer and God's love. We anticipate adding a youth program in the near future – stay tuned and for more information call the church office.