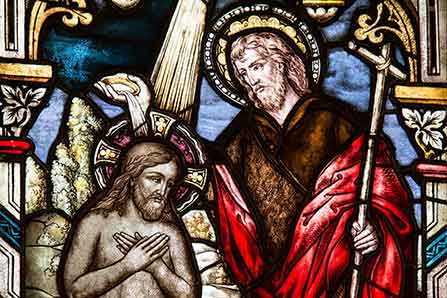 Whether you presently a member of our congregation or have a special link with the parish (e.g. parents who were christened or married here or a loved ones ashes are interred here etc.) – we welcome you to be baptised or have your child baptized at St. John's.
Baptism is the foundation of our whole Christian life. It is the gateway to life in the Holy Spirit and the door, which gives access to the other sacraments and full membership in the universal Church of God. Being christened is a one-time event and anyone who has not previously been baptized.
Through Baptism a person is reborn as a daughter or son of God. It is through Baptism that an individual begins their formal relationship with Jesus Christ and the Church. It unites us to God through Jesus' resurrection, gives the gift of eternal life and makes us part of Christ's Body, the Church.
Baptism normally takes place within the Sunday Eucharist or under exceptional circumstances, with the permission of our Bishop, as a separate service.
Christenings are not normally held during Lent to allow a greater focus on the austerity of the season. Baptism is a way of sharing in Christ's resurrection and so is not suited to the time of year when the church is preparing for the celebration of Easter.
Baptism is perfectly proper for both adults and children. A brief time of preparation is required with the parents of any infant being baptized. For an adult coming for baptism, this is usually combined with Confirmation (the giving of the gifts of the Spirit and taking of adult membership of the church) and would occur after a longer period of preparation.
Enquiries about baptism should be directed in the first instance to the Parish Office.