The Sanctuary and Chancel of St John's is graced with some extraordinarily beautiful and historically significant stained glass. Many of the windows are memorials to those who fought and died in World War II.
Chancel Windows
The two narrow Chancel windows are made of 11th century glass fragments from Canterbury Cathedral that was shattered during bombing raids of World War II. The glass fragments were, by special permission of the Cathedral, given to Archdeacon Greig, a parishioner during the war. They are an unrelated pleasing arrangement of fragments of glass from other windows. Each window is comprised of four casement sections, one of which is an opener. The Venerable Rev. Greig built St Matthias Church in Vancouver, and these windows were a memorial gift from Mrs. Greig and her family and were dedicated on December 6, 1970.
St John's Memorial Window
The striking, five-paneled window set in a massive arch on the south side of the nave was commissioned in 1949 and installed in 1951. The window was designed by one of Canada's premier stained glass artists, Yvonne Williams of Toronto, Ontario (http://cwahi.concordia.ca). It was dedicated on April 22, 1951 by Bishop Godfrey Gower "In loving memory of all those who fell in the world wards in service of their country".
The Central Panel depicts Christ on the cross, with arms uplifted. The text, "Lift up your hearts", is inscribed in an arch beneath Christ. The ray of light, representing God, shines on a chalice. Beneath the cup, two disciples kneel at a communion table. The official coat-of-arms of the Province of British Columbia, with crown and lion rampant resting on the shield, completes this panel.
There are two side panels on each side of the central one which depict men and women of Canada's fighting forces: a nurse, a merchant seaman, a sailor, an airman, a soldier and an airwoman. Beneath each figure is a shield bearing the crest of the service represented.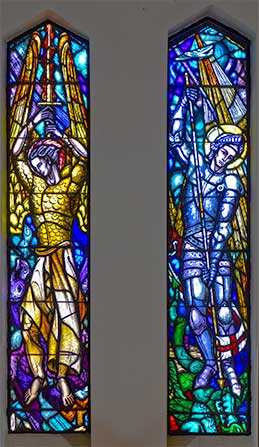 Spanning the base of the whole window is the text, "We build not temples unto martyrs as unto gods, but memorials unto dead men whose spirits with God are still living".
Bell Tower Memorial Windows
There are two stained glass windows mounted into the west wall of the Bell tower. The window on the right depicts St Michael, the Archangel, Patron Saint and Prince of the Church Militant. This window is dedicated to Lieut. Oscar Beale, Royal Fusiliers, who was killed in the First World War. The second window depicts St George slaying the dragon, a theme that represents chivalry. This window is dedicated to George A. Walkem and his son, George Rodney A. Walkem. The latter was shot down of Leipzig in World War II, and there is a depiction of a small airforce bomber at the very top of the window.